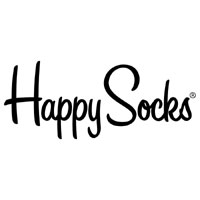 Happy Socks Discount Codes
Happy Socks Discounts & Promo Codes
15% Off Happy Socks Promo Code
Expires: Unknown/Ongoing
Up To 40% Off Summer Sale Items
Expires: Unknown/Ongoing
Up To 35% Off Kids Accessories
Expires: Unknown/Ongoing
30% Off Big Dot Socks Now 9.80 USD
Expires: Unknown/Ongoing
20% Off 7-Pack 7 Day Socks Gift Set
Expires: Unknown/Ongoing
Free Shipping On Order Over $50
Expires: Unknown/Ongoing
20% Off Student Discount At Happy Socks
Expires: Unknown/Ongoing
Happy Socks x Smiley Collection
Put a smile on your face and feet with the special edition Happy Socks x Smiley collection! Smiley meets our classic Big Dot, Jumbo Dot and other completely new, colorful designs for a good mood guaranteed. Pair up – Happy Socks X SmileyWorld kids socks are here too.
Expires: Unknown/Ongoing
Spring/Summer Pretty Ugly Sock Collection
Pretty or Ugly? Purely a matter of personal taste. Our new collection challenges the ordinary notions of beauty. Let's expand the definition of what cool socks can be together! Cozy socks with fluffy yarn, funny socks with plastic chairs, poodles, lava lamps and everything in between are here.
Expires: Unknown/Ongoing
Fancy 10% Off First Order With Sign Up
Expires: Unknown/Ongoing
Save more at these popular stores